For IndexAssistant, click here.

Jambient News:
---
-First all Jambient CD released: Will Green's Through Curved Space

-FIX for "jambient.exe doesn't exist" hang in XP/2000

- 15,000 downloads of JambientFREE from Download.com!

- 5,0000 downloads of Jambient from Simtel!

Demos:
---
Intro to jambient loading samples + 3 other demos


---
LINKS
This is Jambient
This is Jambient - mixing software for spontaneous improvisation. It's a tool for DJs, electroacoustic musicians, and for anyone who wants to create music on their PC.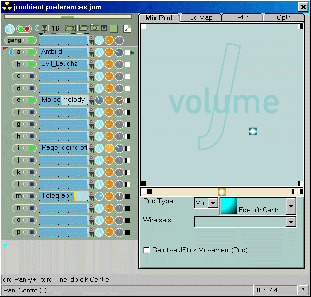 Click for a tour of jambient

sometimes a joystick
is more than just
a joystick
What makes Jambient different?
Jambient uses a joystick to sculpt sound in 16 channels simultaneously. The result is unlike any other computer based musical instrument - a way to create sounds live - from the DJ booth, onstage or at your workstation - that would be difficult or impossible to create in a studio.
I think, therefore I jambient...
See what our users have to say about this cool program.
Read more...
What Does Jambient Sound Like?
Jambient is an incredibly flexible instrument - and it is an instrument - and every player brings his or her own sound to it. You can hear some audio samples here - you'll need an MP3 player to hear them. Or check out Will Green's all Jambient CD Through Curved Space. Then, if you're intrigued, you can get your own copy of Jambient and download the original source files, and make your own variations. The page also tells you where to find sound samples - there are thousands on the web.
Message System
Our
contact page
is a message board that allows you to contact us and read messages from other Jambient Users. We hope that it'll become useful to others learning how to use jambient, and a place to exchange sites, ideas and build jambient. Check it out.
Finding out more about Jambient

We have a Flash-based presentation that introduces Jambient concepts and its interface, and guides you through the set up process. Further demos show how to use jambient. Also see our screen shot tour of the interface.

But the best way to find out about Jambient is to download a copy, install it on your computer and give it a try. After you've got it running, go to our sounds and jump files page, where you can download prepackaged 'jams' you can play - and play with - on your copy of Jambient, or find links to sources of wave files.

Check out our requirements page for what system you'll need.

Is Jambient Free?

Jambient is shareware. It will time out 30 days after you first use it. The trial version is full functional. To continue using Jambient after the trial, register at RegNow. Registration costs just $50 USD and gives you unlimited use of this and all subsequent versions of jambient.

We also have a freeware version of Jambient - jambientFree. Head to the downloads page, download it, and it's yours.

By downloading and using jambient, you agree to the terms of its license.


this site and its contents copyright omnivore 2000-2001